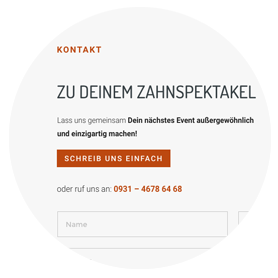 Do you have a costume in mind? Browse our gallery for a sample set of teeth that are already made up that you would like to order
Special-effect teeth
or let us help you design your own set of teeth completely free
Your ideas
. Together we are SPEKTAKELr!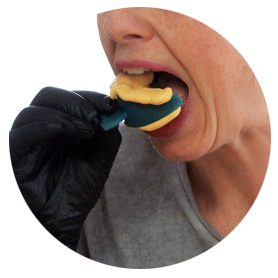 Once you order your special-effect teeth by email, you will receive a starter kit that is sent directly to your home to create your upper- and lower-jaw teeth impressions. Of course, we'll explain exactly how to take the impression yourself. Important for you to know:  Do not be afraid of gagging! Our impression tray does not extend quite as far back in your mouth as the trays you might be familiar with from previous dental impressions. Don't worry, it's really easy!
As soon as your dental impression reaches us, we get down to business and create your precise-fitting special-effect teeth.
It takes two to four weeks from the time you place your order to the time to receive
your special-effect teeth.
Click "Your perfect TOOTH IMPRESION" here to download the instructions.
Watch our tutorial video that will show you how easy it is to take your tooth impression:
Treat yourself to the experience of a sensational performance,
which will be fascinatingly different and is guaranteed to be unforgettable!
or call: +49 931 – 4678 64 68